ORLANDO TANDEM SKYDIVING: IN A NUTSHELL
Skydiving can beat the wildest ride as falling from almost 14,000 feet can draw all people's attractions. Though there are many popular theme parks in Orlando, tandem skydiving provides an interesting substitute to the basic activities of Florida tourists. If you are going to experience it for the first time, you'll enjoy a lot and basically the local skydivers use to do it daily. For takeoff and landing, open space is required in Orlando tandem skydiving. So, you need to travel to Orlando to experience this freefall adventure.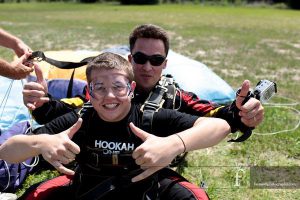 Skydiving types:
Basically the beginners go with a tandem skydiving. An experienced instructor is attached to you for your total dive. Orlando tandem skydiving provides every excitement of an individual trip, yet adds a net for your safety on your back. You will be connected with the harnesses to your partner's front, yet you'll still experience the whole skydiving. Orlando tandem skydiving is completely safe with Jump Florida as it brags an appropriate record of safety with tandem diving. If you are experienced in skydiving, you can select from different types of diving packages.
What you should expect:
You should attend a pre-jump training session before experiencing Orlando tandem skydiving for the first time. Jump Florida offers all types of equipment you need for your diving, such as – parachute and a jumpsuit. We also recommend you to wear goggles and not glasses or contact lenses because your eyes can be dried out by diving through the sky at roughly 120 mph.
When you should go for skydiving:
The pleasant weather of Florida is perfect for skydiving. Yet, when the summer heat and rains arrive, things slow down a little. You can go on week days to enjoy this adventure and if you want to avoid the crowd, you can go on week end also.
Particularities:
As per the T&C of Jump Florida, every skydiver should be at least 18 years of old without any exception. So, only legal adults are allowed for the pre-jump training session. At the same time, every tandem diver should have a weight limit of less than 230 lbs. During the rest of your flight, there will be a Tandem instructor provided by us. You will also be provided with the video of your freefall and the reaction of freefalling to make your experience memorable.
Tips for Orlando Tandem Skydiving:
You can have a major adrenalin rush by this skydiving. In fact, you may be left exhausted and drained by this diving. If you are planning to go for tandem skydiving, don't schedule any other type of activities on the same day. Once you have jumped from a flight at more than 13,000 feet, you may get yourself totally wiped out for enjoy any other adventurous activity.
When you will go for tandem skydiving, try bringing your friends and family with you. This is a lifetime experience for you. Your friends and family can watch you from the spectator area. So, opt for the safest and most friendly tandem skydiving of Jump Florida today!